"We regret to announce that "Godzilla" Jax Dane will NOT be appearing at our Viva La Lucha event on Sunday, April 23, 2017 in Winston-Salem, NC. He was presented a huge last-minute opportunity with Impact Wrestling... AML Wrestling Management
Jax Dane was on our list of top ten free agents in professional wrestling. It is no wonder that Impact Wrestling is rumored to be interested in him. Jax Dane spent the better half of the past four years dominating the National Wrestling Alliance. Racking up wins and Championships, Dane is a former NWA National, North American, World Tag Team, and World Heavyweight Champion. Dane has had stints with New Japan Pro Wrestling and recently had been appearing with Ring of Honor and AML. Dane is still scheduled for Smoky Mountain Wrestling's Collision Course on Saturday May 13th at the Kingsport Civic Auditorium where he was going to face Ryback aka the Big Buy. At 6'4" and over 300 lbs the man they call Godzilla could have a huge IMPACT for Impact Wrestling. I recently spoke to Dane regarding New Japan coming to the United States in July and he told me he at the time that he had "a lot of things in the works right now. Depends on which opportunities come up." Dane couldn't be reached for comment on this rumor about Impact.
Updates... Dane will be known as Wilcox and will team with
Mayweather (who used to be Crimson) as
Veterans of War/
Powered by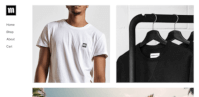 Create your own unique website with customizable templates.